Please follow and like us:
One of my memories from being young was rice pudding. Now, there were 2 very different types of rice pudding I ate. First the school rice pudding that was, well, beyond description really, but I'll try. It was white, really snow white, and the taste, well there wasn't one, bland doesn't begin to describe it. And I can't forget the blob of nondescript jam which was dropped into the middle of it. I don't remember it ever being warm either come to think of it.
Now the rice pudding I got at home. It was delicious, rich and creamy and I always got a good share of the skin. I used to love scrapping the dish after it was finished to get any bits that were left. It was a real comfort food when I was feeling down or just when the weather was horrible and I couldn't play out.
These days you can buy ready made rice pudding that, the maker's claim, is as good as traditional, home made rice pudding. I will say that's it's cheaper than making your own, definitely quicker and more convenient but it's no match for the real McCoy.
Now the problem I have! The recipe was my Nan's who taught my mum how to make it but it was never written down. I don't remember the recipe and so to my quest. I need to find something that tastes like it did when I was a child. This is going to be a mammoth task but I'll do it!
This is the first recipe I'm trying, lets see how it goes.
Ingredients:
140g Short Grain (pudding) Rice
410g Tin of Evaporated Milk
850ml Whole Milk
40g Golden Granulated Sugar (we didn't have this so used normal granulated)
1 Whole Nutmeg (we used dried)
25g Butter
Method:
First butter an an ovenproof dish with a capacity of 1.4l and pre-heated oven to gas mark 2, 150°C
Place the rice and sugar in the ovenproof dish, pour in the milk and the evaporated milk and give it all a good stir.
Put the nutmeg on the top and then place the butter on top in small bits.
Place the dish on the middle shelf for a total cooking time of 2 1/4 hours. After 45 minutes give it a good stir and place back for the rest of the cooing time.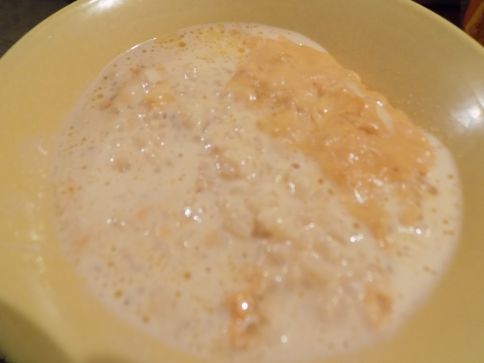 The Verdict:
It was a lot runnier than the one I grew up with and although it was creamy it just wasn't right. The 'skin' wasn't as tasty either. Tom isn't a rice pudding fan (I know!!!!) so he wouldn't even try it, Abbie tried it but didn't like it. I wasn't fussy but it was edible but Jess loved it  
My score would be 6/10
Back to looking, I'll keep you updated on my search for the perfect rice pudding.