Please follow and like us:
The first time I did it I had a lot of help from my nanny, it turned out really well. The second time I did, which was yesterday, I nailed it. My grandad rated the first one 8/10, including the pasta, but the second he gave a 12/10. So this is definitely a keeper. We just need to get some pasta in.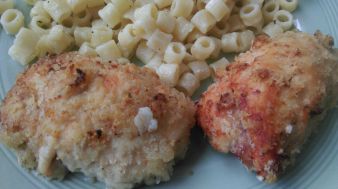 You will need:
For the chicken roll things:
2 Large chicken breasts
8 slices of ham
A handful of baby spinach leaves, chopped
150g Soft cheese
4 Slices of bread, made into crumbs and seasoned with salt and pepper
For the pasta (optional, used it as something to serve with):
250g Ditali rigati, or normal pasta
50g Grated cheese, I used cheddar
Salt and pepper to taste
Method:
1. Cut the chicken half through the middle (so you get 2 flat halves), flattened out to about 1/2 inch. You can use a mallet or a weight. Mix together the cheese and spinach.
2. Lay out the pieces of children and place 2 pieces of ham on each so that it covers the whole thing. Pit a small strip of cheese down the middle of the ham. Carefully roll up and secure with cocktail sticks. Heat a bit of olive oil up in a frying pan, prepare a baking tray with olive oil. Preheat oven to gas mark 6/200*C/400*F.
3. Roll the chicken rollatinis in the bread crumbs and gently fry them until just browned off. Place on the prepared baking tray and cook for 25-30 minutes.
4. While they are cooking, cook the pasta/ditali. Drain completely and add in the cheese and seasoning, DON'T let the pasta cool before adding the cheese or it won't melt as well.
5. Take out the chicken rollatinis and serve with the pasta! Done.