Please follow and like us:
Perfect as a main meal with chips or just as a snack.
Ingredients:
1lb cooked chicken -chopped
1 onion – chopped
7 fl oz milk
1 tbs cranberry sauce
2 tbs flour
Large knob of butter
Juice of 1 lemon
1 egg beaten
Pinch of mixed dried herbs
4oz breadcrumbs
Oil for frying
Seasoning
Method:
Fry the onion in the butter for a few minutes then add the flour stirring well, then gradually add the milk while still stirring until it forms a thick paste. Continue cooking for a further 3 minutes.
Fold in the chicken, cranberry sauce, herbs and lemon juice and heat through for a couple more minutes and season to taste.
Remove from heat, cool and then place in fridge until chilled. Form the chilled mixture into croquettes dip into the egg and cover with breadcrumbs. Fry until golden brown on all sides.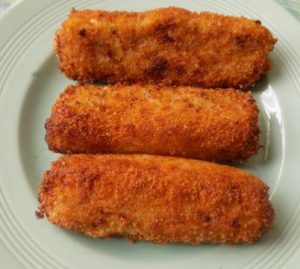 At Christmas you can use leftover turkey instead of chicken.