Please follow and like us: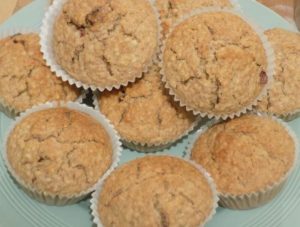 Another attempt at making a delicious muffin while keeping the calories a little lower I tried these as a follow up to the very successful Apple & Oatmeal Cookies. Myself and the children really liked them but my husband isn't a fan of cranberries so wouldn't even try them, oh dear that means we get 4 each not 3 ?
Ingredients:
140g Rolled Oats (Porridge Oats)
85g Plain Flour
85g Plain Wholemeal Flour
50g Caster Sugar tsp
2 ½ tsp Baking Powder
1 tsp Cinnamon
½ tsp Nutmeg
½ tsp Salt
250ml Water
125ml Sunflower Oil
125ml Apple Sauce
2 Eggs
40g Cranberries (I had a packet of the ready to eat ones in the house)
Method:
Preheat oven to Gas mark 4 and either spray a 12 hole muffin tin with a cooking spray or use muffin cases (so much easier).
Put oats, flours, sugar, baking powder, spices, and salt in a bowl.
Then in a separate bowl whisk water, oil, apple sauce, and eggs until well mixed.
Next add dry ingredients to wet ingredients and add cranberries and mix well.
Place the mixture into muffin cases, (mine made 12 decent sized muffins). Bake for approximately 30-35 minutes until the tops are lightly browned and a skewer or toothpick inserted into the center comes out clean.