Please follow and like us:
Probably one of the fanciest and well-liked recipes i've done (with Nan's help for this one), the name sounds a bit daft but that's basically it, a chicken breast wrapped in streaky bacon cooked in garlicy stuff, easy. You can tell were proud of it with how many pictures there are.
You'll need:
4 Chicken breasts
2 Garlic cloves, chopped finely
100g Butter, melted
1tsp Tyme
1tsp Parsley
4-6 Rashers streaky bacon
200ml Hot water + 1 chicken stock cube
Method: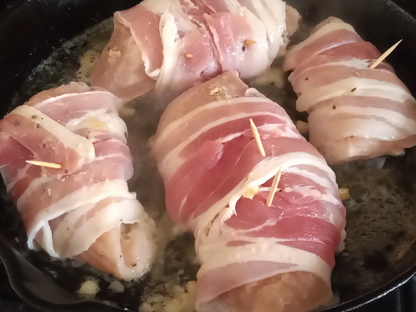 In a small bowl, combine the butter, garlic, and herbs. Dip the chicken breasts in this, covering all sides, wrap in 1 or 2 rashers of bacon depending on the size of the chicken breast, secure with tooth picks.
Pour the remaining garlic butter mixture into a large cast iron pan, large enough to comfortably fit all 4 chicken breasts and deep enough to hold the stock, heat the butter and then place them all in, fry for a few minutes until well done on all sides, when the bacon is completely cooked, remove toothpicks and pour the stock into the pan and bring the a boil, this is apparently called broiling.
Broil the chicken for about 10 minutes, if you're unsure if they're cooked, which by now they should be, cut into the deepest part of the biggest one and see if its cooked inside. Serve with some of the liquid from the pan, its surprisingly nice.